Chanson Water Ultra Triple Pre-Filter System Under Counter 4 VS 70 ULTRA-MUCION
New Chanson Ultra Triple Under Counter Pre-Filter System
Chanson Ultra Triple Pre-Filter System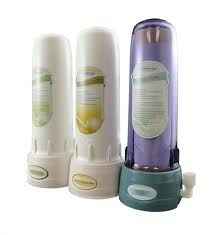 The Chanson Well Water Ultra Triple Pre-Filter System
This configuration is for Under Counter Installation
To be used with Under Counter Water Ionizer

Work with Chanson VS70, Melody, Athena, Delphi
TheChanson Water® Triple Ultra Filter provides amazing filtering capabilities ofharmful pathogens and bacteria, heavy metals, chemicals andcontaminants without removing beneficial minerals from the water.  The Ultra has been configured to those whodraw water from a well.
The Chanson Water® Ultra-filter has .01 micron strands that trap and remove bacterialand viral contaminants from the water supply. Because the smallest bacteriaknown to man are .02 micron, the Ultra-filter can claim removal of majoranti-bacterial properties. 
Filters with a .01 micron size are nothing new;they have been used and promoted as antibacterial filters for many years.  Because the pore size is so small, a .01filter tends to get clogged.   Chanson Ultra's unique design makes it thefirst "non-clogging" .01 Micron filtration system.
With the Chanson Ultra Filter you get trueantibacterial protection which includes
        

Viruses

        

Mold andFungus

        

Spores

       

E-coliand Coli form bacteria

      

Giardiaand Crytosporium

       

99.9% ofall pathogens
  Filter Cartridge Configuration
     STAGE 1: Ultra Filter -Addresses Cryptosporidium, E.Coli, Giardia, Cysts, Viruses, Mold and Fungus,Spores, Coli form bacteria, and 99.9% of all pathogens

STAGE 2: GAC (Granulated Activated Carbon) - Addresses chlorine,bad taste and odor, herbicides, pesticides, SOCs (Synthetic Organic Compounds)and VOCs (Volatile Organic Compounds)
     STAGE 3: KDF/GAC - Addressesheavy metals, bacteria, sulfur, pesticides and nitrates
  Filter Cartridge Replacement
    The Stage 1 Ultra Filter will last 2-3 years before it needs to bereplaced.  The stage 2 and 3 filters shouldbe replaced approximately every 12 months. 
   The Ultra Filter pre-filtration unit is intended for well water application. If you have city water, please see the Chanson C3 pre-filtration system
   Installation Method
     ULTRA-MUCION  Under Counter Ultra Installation - for use with all brands of under-the-counter water ionizers.Chanson VS70, Melody, Athena, Delphi 
   The first filter with a life time warranty All Chanson ultra filters have full lifetimewarranty on the housings hoses and fittings. Should your filter housing, hosesor fittings ever become damaged for any reason just give us a call and we willmail replacements to you right away. This warranty is exclusively for the ultrafilter.
Shipping Details
I use several warehouses to ship orders out for me. They use UPS, USPS and fedEx.
Our Refund Policy
I really appreciate your business. I want to thank you for your understanding and cooperation in advance.
I have a 30 days return for most of products that I sell unless otherwise stated.
If there is damage to the product due to shipping, please keep all you package in addition to the products. Email to get the claim process started as soon as possible.
Any other reasons for return, buyers will have to pay the actual shipping cost to ship the item back. Purchase money minus the shipping cost to send the product to you will be refunded. 15% restocking fee will be deducted from the original purchase as well.
Open and used filter is not resaleable and is not refundable.

Please email me first if you have any issues with your purchase. Thank you for your communication.
Our Feedback Policy
There is a sea of sellers on line and you have chosen me. I am really honored. I greatly appreciate you.
I would be grateful if you spend time to write about your shopping experience.  I like to know that I have done a good job.   Please give me five star rating.
Thank you from the bottom of my heart.